CONNECTING DIVERSITY
The programme arch presents an overview on movement of population as an inspiration in art and reminds us of positive consequences of migrations and mutual permeation in culture, which are an integral part of our lives.
One of the main events will be the 'Migrations of Souls', a unique literature pavilion, connecting visual and performing arts, with the aim to present the impact migrations have on an individual. We can also expect the Caravan, a gastronomic journey across Europe through art and flavours, and many other programmes.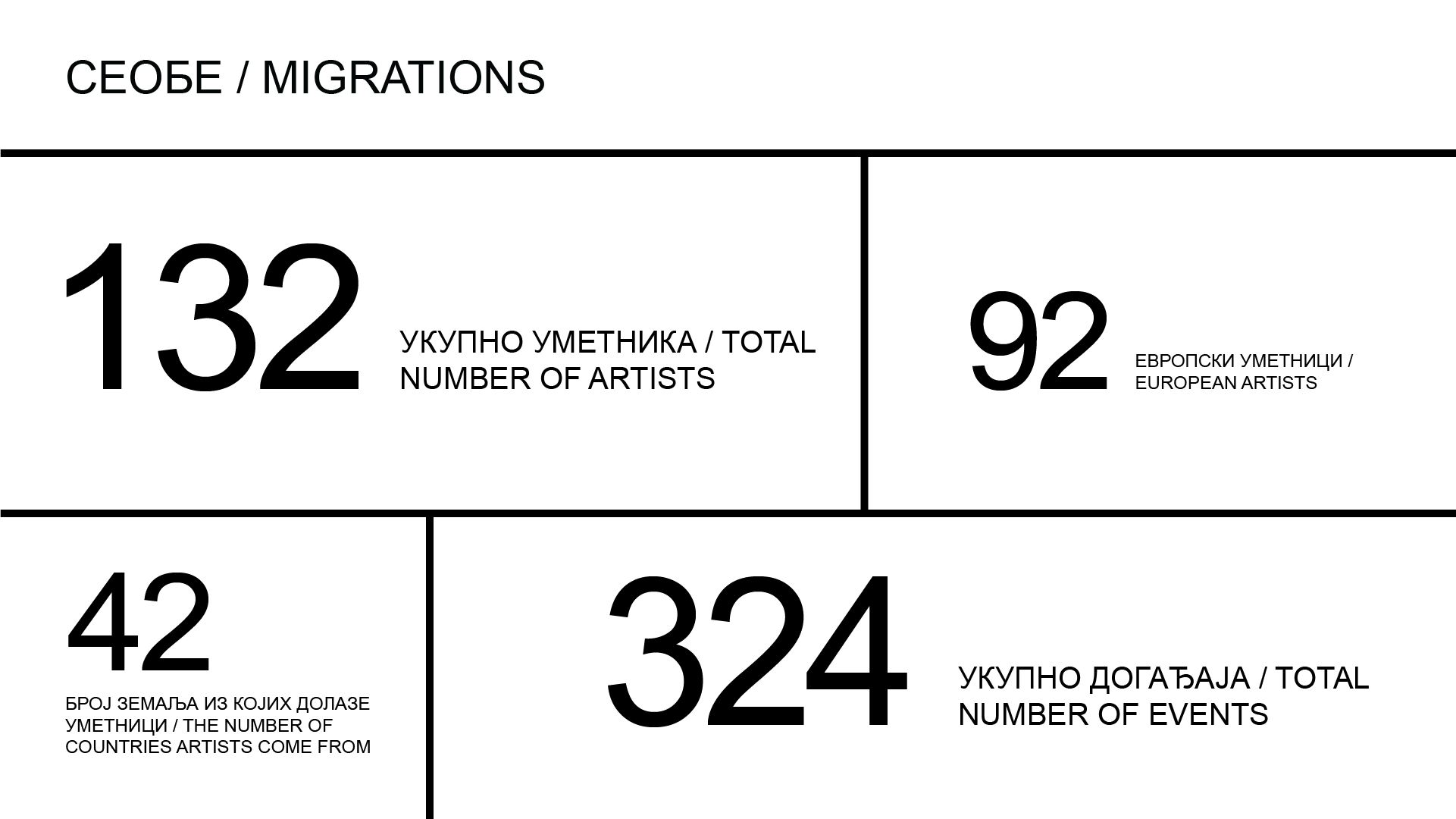 Encounter of diversity, movement of the population as a source of cultural, artistic and creative expression, perception of the positive consequences of migration – these are the key determinants of the Migrations programme arch, which, in addition to the unique pavilion of books at the fair, is preparing more than 300 events where you will have the opportunity to enjoy the performances of over 100 artists from 42 countries.
Some of the names and programmes for Migrations announced so far are one of the best artistic circuses in Europe, the French Beta Circus, the Barcelona Gipsy Orchestra and the star of contemporary dance, a Japanese artist based in France, Kaori Ito.
In the following months, the announcement of the programme for 2022 will continue. The entire Programme Book of the project will be published in October this year.
CROSSROADS
Creating Novi Sad through migrations will be the topic of the exhibitions covering cultural heritage. We will look at the past from the present perspective in order to envisage a new future. We will also try to turn prejudice into laughter, dance in the city streets and greet everyone who came back to Novi Sad in order to enrich it.  
MIGRART
The established and emerging artists of the European art scene address the topic of migrations as an inseparable part of the European identity through classical art, photography and contemporary creation.
SOUL MIGRATIONS
A literature pavilion, unique in this part of Europe, will be held at the Novi Sad Fair so as to emphasise personal and individual experiences of migrations through different forms of art. The rich accompanying artistic and cultural programmes will thematise physical departures and arrivals, wanderings, as well as less tangible but still important questions regarding existential and metaphysical movements.  
CARAVAN
Through diverse tastes of gastro culture, flavoured with authentic art, we set out on a four-day programme journey through the regions of Eastern, Western, North and South Europe by visiting cultural stations in Novi Sad.