Nine symphonies, four cities, two philharmonics, one day, and one European Capital of Culture.
A unique event in the world of classical music, and one of the biggest in 2022, 'Beethoven Marathon', will be a one-of-a-kind performance of all nine Beethoven symphonies in one day, on 26 June, alternately performed by more than 200 performers of the Belgrade and Dortmund Philharmonic Orchestras, under the baton of their chief conductor and the author of the whole project, Gabriel Feltz, together with the Slovak Philharmonic Choir from Bratislava and four soloists from the Netherlands, Austria and the USA.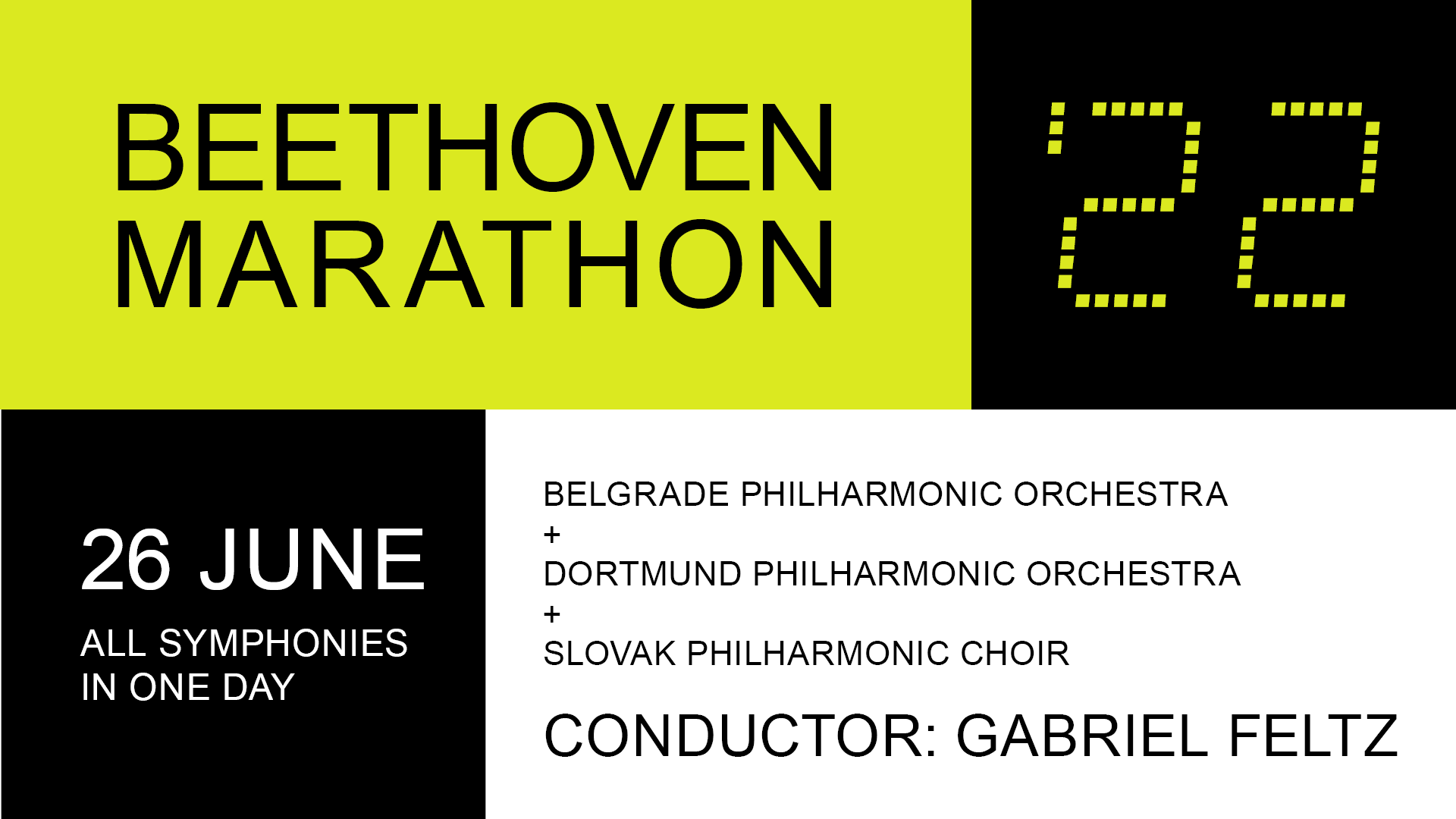 The Belgrade and Dortmund Philharmonic Orchestras will alternate in performing eight symphonies, with several breaks, at the first City Concert Hall in Novi Sad's history on 26 June from morning until evening hours:
10 a.m. – Symphony No. 1 and Symphony No. 2, Dortmund Philharmonic Orchestra
12.30 p.m. – Symphony No. 3 and Symphony No. 4, Belgrade Philharmonic Orchestra
3 p.m. – Symphony No. 5 and Symphony No. 6, Dortmund Philharmonic Orchestra
5.30 p.m. – Symphony No. 7 and Symphony No. 8, Belgrade Philharmonic Orchestra
The culmination of the Beethoven Marathon will be the famous 'Ninth Symphony' and the 'Ode to Joy', in honour of Europe and European heritage, which will be performed as a major open-air concert, at the Petrovaradin Fortress on 26 June at 8.22 p.m.
Admission to the open-air concert is free, while tickets for the concerts in the City Concert Hall are on sale, for each of the four concerts separately, and are available at all Gigs Tix outlets, as well as on their website.
The ticket price for one concert is 1,700 RSD, and on the occasion of the World Music Day, we are giving away a 50% discount on tickets for the 1st and 2nd concerts. You can buy discounted tickets only at the Gigs Tix store in Paris Magazine.
Beethoven's music, and especially Symphony No. 9 with Schiller's verses of 'Ode to Joy' represents the ideal of human unity. At the same time, as the anthem of Europe, it connects the peoples of the Old Continent as one of the most famous examples of European musical heritage. Beethoven's music itself represents the concept of peace, but also of unity because a symphonic instrumental work received 'reinforcement' in the form of voices – solo, but also choral.
The 'Beethoven Marathon' is part of the Fortress of Peace programme arch, one of the eight programme arches of the European Capital of Culture 2022, which promotes a culture of peace and critically reflects on the causes and consequences of war conflicts.
Photo: Marko Đoković