Ester Tajrychová is an illustrator from the Czech Republic. She stays in Novi Sad within the 'Plants AiR' residential programme and while in Novi Sad, she held several workshops with children on illustrating the poems of our great poet Jovan Jovanović Zmaj. The artist, herself, is also working on a project: an illustrated book of Zmaj's selected poems. We talked with Ester about the impressions that she'll take back home from Novi Sad.
During your stay in Novi Sad, you focused on poems of Jovan Jovanović Zmaj. How did this project affect you?
Definitely in a good way. So far, I am really enjoying working on his poems and even like everything that is connected to him is really interesting. I think it is helping. I am trying to implement some of these details into my work.
Can you say that you went back to your childhood?
(Laughs) I never left it.
Did you find some new imagination by switching to the 'child's mode'?
Yes, but I would say it is not only this, also, just the fact that I am in a different country etc. It is always really rich in bringing new things to me, it works like, I can definitely use it, so, it is great.
How did you like the poems of Jovan Jovanović Zmaj? Do you have a favourite one?
Several of them, actually. For the moment, I really like the 'Elephant', but that is one of the longest actually. So, for me, I have to illustrate it, definitely. I would need more space not only to put it in the book, but I was really imagining a poster or something huge because the 'Elephant' deserves it. I really like the humour that he was using which I think is not so usual even in the children poetry because what I remember from my childhood, I do not have any favourite poems when I was a child and this I would really love, I think. Finally, I know them. (laughs)
It is very interesting that you use hand-made rubber stamps for your illustrations. Why did you use this technique?
I discovered it two years ago and since then I am working on it and I am discovering new possibilities of how to use this technique.
How would you describe it? What are the advantages?
For me, one of the advantages is the thing I can make children use it, too, which is perfect for me because it is interesting to see the results afterwards. When I was a child I was using stamps and I loved it, so I am just getting back to my childhood again. From my experience, I know that it is really an activity that people enjoy and so do I. For illustrations, the characteristic of rubber that I enjoy its easy multiplication and that is what it is made for and that is how I can create illustrations in a different way than I would do by drawing or different technique.
Can you explain the process of creating one illustration?
It is a long one. I am mostly working in details so I just have one idea and then I put more of these so there is, for example 'Frog reads newspaper', that is one of the poems I have been working so far so the frog is the main element of the whole illustration and then I am just putting new ideas of what could be in the surroundings. I start always with the drawing then I transfer it to rubber and I have to carve it and that is how it starts. I decided I will put the illustrations together digitally. It, actually, opens much more ways so that is great, I love it, but it will take some time.
Can you share your impressions from the workshops with children that you had here? What will you remember the most?
Every workshop was different which is great because it really gives me a reason to think of it and to think- ok, so for which age which were the results etc. I can really investigate. It is not the right word but I can definitely think of it and use it next time when I will prepare something similar. Basically, in every workshop, between the results that children created, I had some favourites that I really love, and I love their ideas every time. What I am really enjoying in workshops is that they always find something better than I do.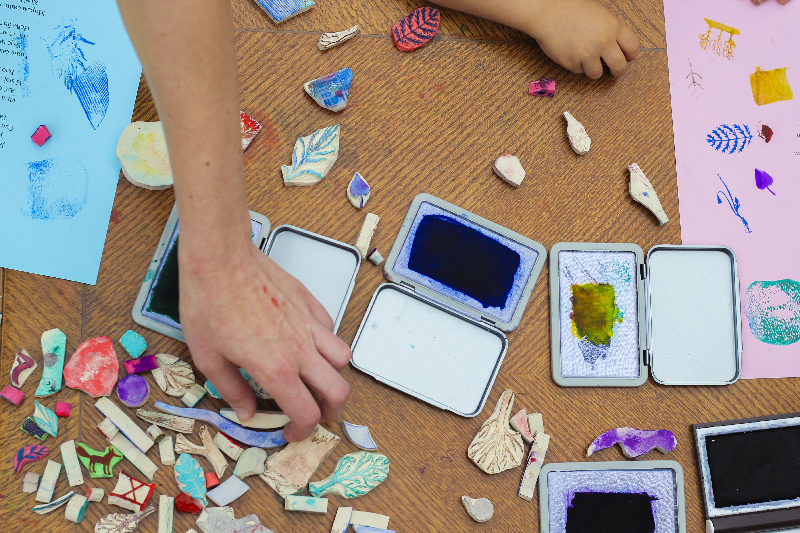 Now that you are approaching the end of the residency can you say that your expectations are fulfilled?
Yes, definitely. I am not sure I really had any. I knew I was going to illustrate these poems that I got to know shortly before coming and I really liked them, so my expectations were quite ok and that is how it all happened.
What are your general impressions about Novi Sad?
I was really surprised, but in a good way. I have recently visited several capitals etc. and I feel like every city is much more relaxed than Prague, my capital. That is sad. I am always asking myself what is the reason and what actually makes this so for me, and of course I am aware that I am slightly as a tourist here so I have some impressions and it does not have to be real. Naively, I really love it, I love the way that even late in the evening, the city is still alive, but not in a way as it is in my country. I feel like people are able to enjoy life in better ways, probably.
What is, in your opinion, the best advantage of the city that is about to be the European Capital of Culture, as Novi Sad is going to be?
It should always be somehow cultural already, before becoming capital of culture. I think that Novi Sad actually is, so, this is great. I can compare it with Plzen where I studied which was capital of culture in 2015 and I think it is really interesting just to see what is happening and what will come and all the projects that will happen.
We would not be here if we didn't get this title. Did you know that?
Good for me (laughs).
Do you have any message for Novi Sad, the European Capital of Culture?
Good luck! I will come and see it.